Happy Saturday crocheters! Ready to learn a crochet stitch? Lisa Perez shows us How to Create a Tunisian Simple Stitch with her instructional video. This type of crochet  is different from normal crochet. For one, each row is worked in two passes, forward and backward and you don't turn over your work. Sound interesting? I know I was intrigued. In patterns it's also known as the afghan stitch or it's abbreviated as TSS.
The other main difference about this crochet stitch is the type of hook you use. There are many names for the hook and the one Lisa uses is double-ended. When you start to crochet, it really looks similar to knitting which surprised me. Some people think of this stitch as  a cross between knitting and crocheting but it really creates a more woven look.
This type of crocheting has a tendency to curl, so use a large hook and keep your tension loose. I personally haven't tried this stitch yet, but this video makes it look so easy and I can't wait to try it out. I'm still amazed by the fact that you never turn your work, you just keep working back and forth. Lisa recommends to block the your piece once it's done. You can also do a basic single crochet stitch around the edges to combat the curling too . It's not a difficult stitch, but she admits that it can be hard to get used to the longer crochet hook.
So now you've watched the video and you're itching to crochet a project using this stitch. You're in luck because we have lovely Tunisian projects on AllFreeCrochet and AllFreeCrochetAfghanPatterns. Here are just a few of our favorites below:
Tunisian Cable Clutch – This purse uses the Tunisian Simple Stitch along with quite a few other stitches. I just love the bow that pulls is closed. Such a simple idea for a sweet little clutch. I can picture this being a great Christmas gift for little girls, but you can change up the colors for a more classic look. (I'm think a light blue with a shiny ribbon.)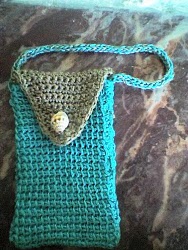 Tunisian Stitch Cell Phone Bag – This adorable pattern is a great first project to try the Tunisian Stitch. It's small enough so you won't get overwhelmed and cute enough for you to want to finish your project to see the end result. These cell phone bags would also make cute last minute Christmas gifts for friends, especially with the iPhone craze and protecting the screen from scratches.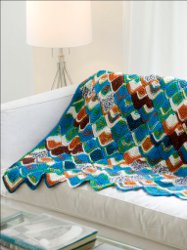 Fish Scales Tunisian Throw – Last but certainly not least, this crocheted throw is quite amazing. It reminds me of my favorite childhood book, The Rainbow Fish. For this afghan, the Tunisian Stitch is used to make different squares which are connected together to look like the diagonal scales.
Have you crocheted anything with the Tunisian Simple Stitch?
Latest posts by AllFreeCrochetAfghanPatterns
(see all)