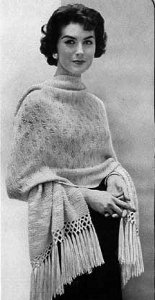 Every year, as any knitter knows, new knitting books hit the market, tempting the modern knitter with colorful pictures and updated patterns that would tempt even non-crafters.  Since even the most nimble-fingered knitter can only complete a limited number of projects in a year, it's no wonder that these books often become tombs of inspiration, rather than something knitted from cover to cover.  In the flow of all this new information there's one thing we risk forgetting, and that's the value of vintage knitting patterns.
Though you might have to search for a true gem, old patterns can be just as lovely and inspirational as the contemporary books found on the shelves of your local bookstore.  Vintage patterns may not look as flashy, but the lace will be just as lovely.  Chances are you already have a dusty book containing these patterns lying around the house, so instead of running out to the store to buy a new book, why don't you take a peek at those long-forgotten patterns?
Modifying vintage patterns isn't terribly difficult—it just depends on what you want to do.  Vintage patterns can be used in two ways: you can follow the pattern verbatim for an authentic retro project, or you can modify the patterns for your own purposes.  Adding a bit of vintage lace onto a basic shawl pattern is a great way to spice up a simple knitting pattern without doing anything too complicated.  If you want to try something a little more challenging, you can try your hand at making real changes in a pattern; utilize a more flattering shaping when knitting up an old sweater or use the vintage pattern as a jumping off point for a completely new pattern.
I've collected a couple of patterns from AllFreeKnitting to illustrate my point: vintage patterns, indeed the ones you already have in your house, can be just as cute as something in the latest and greatest knitting book.
Vintage Knitting Patterns
You can knit these patterns up to create a new elegant addition to your wardrobe, or you can steal some of these design elements to dress up another knitting pattern.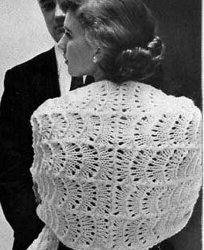 Doesn't the Allegro Shawl (pictured) look devastatingly elegant?  You can easily wear this shawl with confidence.  Use the stitch instructions found in this free knitting pattern to re-create the scalloped look on another project.
You could wear the Minuet Shawl to any event; its' a simple accessory that will complement almost any outfit.
Use the lace pattern for the Sonata Shawl (pictured top) to make your next project really pop, or just knit this free knitting patter as-is.  This easy project is perfect for someone attempting lace for the first time.
Vintage-Inspired Patterns
Wondering how others have used vintage lace patterns in their own work?  These free knitting patterns were embellished with vintage lace patterns.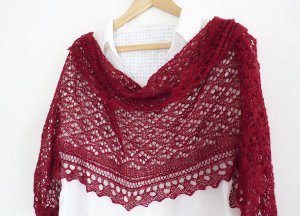 Sometimes a bit of vintage flair is all you need to push your project to new heights. The edges of the Lace Dream Shawl (pictured) were inspired by a vintage pattern.  This shawl pattern looks fantastic, and would make a great addition to anyone's wardrobe.
Finding a lace pattern that you like can be all you need to spark a new project idea.  The Vintage Lace Shawl is based off of a lace pattern.  It's a great example of how old patterns can be re-purposed by a modern designer.
Latest posts by AllFreeKnitting
(see all)