Our friends at AllFreeCrochet have a fabulous giveaway going on right now! Up for grabs are three skeins of this beautiful blue yarn from Caron.
Naturally Caron Joy! Yarn is a super soft yarn that's great for a variety of crochet projects. This medium weight yarn is 70% Acrylic and 30% Rayon from Bamboo. It is available in a handful of fresh, contemporary colors including Snow, Kiwi, Sunset, Aquatica, and more. One of our personal favorites is this pretty blue hue, Bluebird.
Enter here to win these three skeins of Caron yarn in Bluebird. Hurry, the contest ends December 19th. Enter right now!
Find our favorite crochet designs made with blue yarn below!
Free Crochet Patterns to Make with Blue Yarn: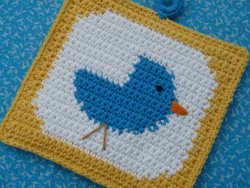 Bluebird Potholder: Brighten up your kitchen with this beautiful bluebird potholder. Bluebirds are supposed to bring happiness, so make this free crochet pattern for instant smiles. Cooking has never been so fun!
Cute Bunny: Don't you want to just pick him up and squeeze him? I do! He is so cute. Kids and adults alike will both love this cute and cuddly bunny. All you need is one skein of blue yarn to make him come alive!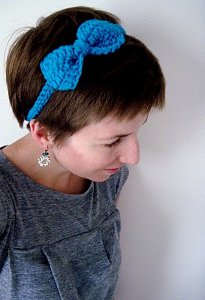 Blue Bow Headband: How cute is this headband?! It looks like something Anthropologie would sell. This homemade version costs a fraction of the price than any store-bought headband. This free crochet accessory is a great pattern to make for any fashionista in your life.
What blue pattern would you make if you won this yarn?
Latest posts by AllFreeCrochet
(see all)