Time is running out to get all of your winter knits on your needles. It's only the beginning of December, and I can already feel good ol' Jack Frost nipping at my nose. I know many knitters get excited about cold weather knitting for all of the bulky weight scarves, mittens, and hat knitting patterns; but there's more to it than that. This year, don't settle for the usual wintery knits. Switch things up a bit and take the lace knitting technique out for a spin.
Now, you might be thinking that lace is only for the warmer months, but who says you can't sport those elegant openwork patterns in the winter too? Here at AllFreeKnitting.com, we like to provide beautiful knits for wear all year long. After all, there's no reason you have to exchange style for warmth. So, cast on one of these elegant cold weather treats and get ready to strut your stuff in time for the harsh winter to come.
Cladach Lace Hat – They say most of the heat escapes from your head. Protect yourself from the winter chill and look absolutely fabulous doing it with this cute and cozy knit hat pattern. Don't let the looks fool you. This knitted hat isn't as complicated as it seems. Once you get the hang of the lace pattern, you'll be knitting it with your eyes closed!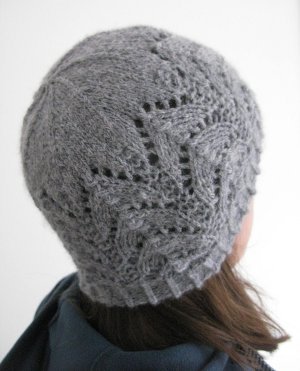 Burnished Rose Infinity Scarf – There's just something about this beautiful infinity scarf you simply can't resist (and neither can we). Knit with metallic yarn, this knit infinity scarf has a look and feel to it that simply can't be beat. The lacy edges turn this simple knit into quite the elegant accessory you can wear out anytime to any place.
Lacework Sweater – Learning how to knit a sweater has never been more rewarding. Showcase your talents with the best of them. The beautiful lacework around the neckline and the sleeves brings a classy and elegant feel to this cozy winter knit.
Mesh Lace Cowl – This knitted cowl may look light, but it's heavy enough to provide an abundance of warmth all winter long. This easy knitting pattern is the perfect pattern for knitters looking for their first taste of lace knitting.
Sonata Shawl – Bring vintage glamor to your wardrobe with the cozy knit that just won't quit. You don't have to be a fan of music to have an appreciation for this easy knit shawl pattern.
Montgomery Fingerless Mitts – Fingerless gloves have been taking over, and it's not hard to see why. They're some of the most convenient knits, keeping your hands warm while allowing your fingers the freedom of movement to carry on your day-to-day tasks. Cast on these easy mitts for the trendy winter accessory you'll keep reaching for!
Soft Vines Baby Blanket – Tired of the same old knit blanket patterns? This year, bundle up baby with a knit that has a little pizazz.
Bridger Cowl – If you're ready to step away from the traditional knitted scarves, try casting on a cowl. With a repeating lace pattern, this lovely knit cowl pattern has the potential to become a mindless knitting project perfect for the weekend or a quiet night at home in front of the TV.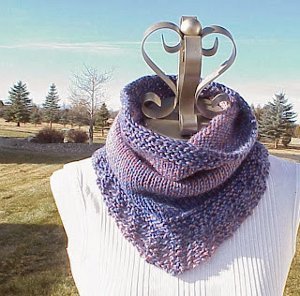 Cozy Hourglass Sweater – It may take some time to finish this knitted sweater, but it's guaranteed to keep you looking your best for days. Accented by a cozy cowl neckline to keep the winter chill out, this is one cold weather knit you don't want to be without.
Montera Slouch Hat – Cover your head; it's cold out! This knit hat pattern is sure to drive away the winter blues. After all, it's got everything you cold possibly want in a knitted hat— style, flair, and warmth!
One Skein Butterfly Scarf – It doesn't take a lot of yarn to knit up a beautiful lace knitted accessory you won't mind wearing again and again. This scarf knitting pattern comes complete with a keyhole slot to keep the scarf secure around your neck.
December Sunrise Scarf – Winter isn't all doom and gloom. Cast on this scarf to add a bit of warmth and color into your winter wardrobe.
Ever Ethereal Antique Shawl – Take a page from Old Hollywood's finest with this breathtaking shawl. Reminiscent of stars like Liz Taylor and Marilyn Monroe, this knit will have you looking and feeling like a million bucks.
What are you knitting tonight?
Latest posts by AllFreeKnitting
(see all)