As the weather outside becomes oh so frightful, the only hope we have of standing against the sudden drop in temperature is to bundle up. As knitters, that's definitely something that can easily be accomplished since almost anything we could ever want can be cast onto our needles. With patterns for everything from knit hats to knit mittens, lower temperatures simply aren't enough to keep us down.
It's during these cooler months that I'm always trying to find a way to keep warm while still looking absolutely fabulous. One of my favorite ways to accessorize is with knitted scarves, infinity scarves, and cowls. Needless to say, I was more than happy to be surrounded by so many knit scarf patterns when I first got into knitting because it meant that I could create something I loved without having to deal with ridiculous store prices. Besides, there's something special about being able to walk around in something you've knitted yourself.
While I've since broadened my knitting horizons to other knitted accessories like hats and fingerless gloves, scarves are still my number one go-to. After all, you just can't beat how multifaceted knitted scarves are. Not only that, but scarves also make perfect gifts for everyone on your Christmas list. So, what are you waiting for? Cast on with me for an amazingly warm knit to get you and your loved ones through the harsh weather to come.
Gorgeous Knit Infinity Scarves
Get ready to wrap yourself up in a knit that is both warm and incredibly stylish. Any of these knitted scarves would be a great addition to your wardrobe. What makes infinity scarves so great is how versatile they are. You can wrap them multiple times around your neck for optimal warmth or simply leave them hanging open for a totally different look. What could be better than an accessory you can wear more that one way?
Basic Knit Infinity Scarf – Perfect for beginners just learning how to knit a scarf, this easy knitting pattern is sure to produce a knit you'll be proud to wear.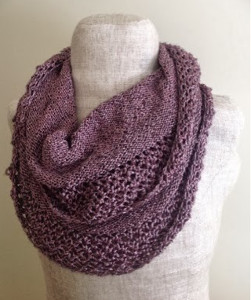 Burnished Rose Infinity Scarf – You've got style and grace, why not knit yourself a beautiful infinity scarf that has the same? You're sure to be the belle of the ball with this absolutely amazing scarf.
Up North Infinity Scarf – Battle the coming winter chill with the bulky knit that will keep you warm and looking your best.
Openwork Infinity Scarf – Want something that will be off your needles in a flash? Super bulky weight yarn and large needles make this beautiful infinity scarf one quick knit.
Perfect in Periwinkle Lace Infinity Scarf – This is one gorgeous knit you don't want to pass up! Use it to accent your little black dress or wear it for a casual night out with friends.
Fashionable and Free Knit Cowl Patterns
I know what you're thinking: is there really a difference between an infinity scarf and a cowl? Short answer: yes. While infinity scarves can often seem to go on forever (as their name suggests), cowls are more fitted. Most cowls are also often wide enough to wear as a hood. There's really no wrong way to wear your beautifully knitted cowl. Once you bind off one of these fashionable knits, you'll see just what I'm talking about.
Gap-tastic Cowl – Want a designer cowl without paying designer money? This easy knit cowl pattern is just what you've been looking for.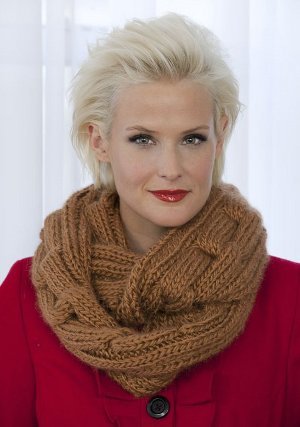 Knot Your Grandma's Cowl – Who says Grandma can't be fashionable too? The twists and turns of this pattern come together to create one gorgeous knit you simply can't resist.
Harvest Bonfire Cowl – Perfect for beginners, this stunning cowl is sure to set you apart from the rest.
Garter Scrap Cowl – Put those leftover scraps of yarn to good use with this uniquely knitted cowl. Use different combinations to create a one-of-a-kind cowl to wear out again and again.
Snowy Buttoned Cowl – Prepare for the coming storm with this cozy knit that will keep you not only incredibly warm but also looking quite fashionable.
What's your preference: Infinity Scarves or Cowls?
Latest posts by AllFreeKnitting
(see all)