Sometimes you can get a little burned out from making baby blankets and scarves all the time. Those items make AMAZING gifts, but they don't always light your creative fire. To bust your boredom, consider creating a crochet surprise for a stranger. Have you ever seen the movie, "Pay It Forward"? The film lays out the idea of performing a genuine act of kindness for a complete stranger, and expecting nothing in return. Why not apply that to crocheting? You can work up something amazing and then give it to a stranger.
Crocheting can be a wonderful skill because it spreads so much joy and love. Crocheters use their talents to shower gifts upon family, friends, and acquaintances. Many wonderful crocheters also work up patterns to donate to charity. What makes crocheted gifts so special is the dedication and talent it takes to make them in the first place. At AllFreeCrochet.com, there's plenty of inspiration to share the joy.
As a boredom buster, make these unique works of yarn art to surprise someone!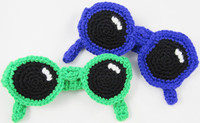 1. Put these sunglasses on a teddy bear
2. Give a stranger a bouquet of crochet flowers
3. Make pom poms (Decorate a coworker's desk!)

4. Wrap a scarf on a statue
5. Leave an Owl Family in an elevator
6. Give coffee cozys to the people in line behind you at the cafe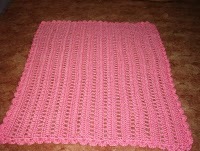 7. Donate wheelchair blankets to a local hospital
8. Make pillowghans for a local homeless shelter
9. Hide crochet bookmarks in library books

10. Make a red Newborn Crochet Hat for a premature baby!
AllFreeCrochet.com is  working with the American Heart Association on their initiative, "Little Hats, Big Hearts" to donate homemade hats to newborn babies. Little Hats, Big Hearts is a wonderful project to help raise awareness of heart disease, the number one killer of Americans, and congenital heart defects, the most common type of birth defect in the country.
Whether you are a crocheter, knitter, a sew-er, or just a crafter looking for a good excuse spend the weekend getting creative, we hope you'll consider making a quick, easy baby hat to give to a newborn in need. The deadline to donate is September 30, 2014 (patterns must be post-marked no later than September 30, 2014). Click here for information on where to send your hat.

Do you have an idea to "Yarn It Forward"?
Latest posts by AllFreeCrochet
(see all)