This just in! We've got our top knitting patterns together just in time for Christmas. While these may not be Christmas knits, they are AllFreeKnitting's most favored patterns. Do you know what that means? You've clicked, and we've paid close attention to what it is you cool cats have been into this year (I'll give you a hint: There are knit scarf patterns for days). Below, you'll find the top ten knitting patterns on the site chosen by YOU! From knit sweater patterns to knitted shawls, we've got something here you can cast on. If you don't like what you see here, you can always check out our compilation page on the site with all 100 of your favorite patterns.
Happy Knitting and Merry Christmas!
Country Cottage Blanket – This is the beautiful knitted blanket that is sure to keep you nice and cozy all year long. It's also your most favored knitting pattern. The Country Cottage Blanket it obviously a winner. Why not make plans to cast on this beauty in the new year?
Adult's Knitted Beanie – There's no time like the present to learn how to knit a hat. This quick and easy knit hat pattern is perfect for knitters of all skill levels. You don't even have to worry about colorwork knitting. Simply choose a self-patterning yarn and get to work!
One Week Sweater – Whether it takes you one week or more to complete this knit sweater pattern one thing is for certain: it's absolutely stunning. This sweater is designed to be a close fit for a knit that will hug and flatter your natural curves. The One Week Sweater also features a bit of lovely lace in the front to make this one sweater you simply can't pass up.
Pure Luxury Scarf – All scarves don't have to look the same. Take the Pure Luxury Scarf for example. This uniquely knitted scarf is one accessory you'll love picking up and layering with all of your outfits— rain or shine.
Grandma's Favorite Sweater – What makes this sweater knitting pattern so great is that it's printable. Now, you can take your pattern on the go. You're going to need it. After all, once you start knitting this sweater, you won't want to stop!
Garter Stitch Baby Cardigan – Keep baby dressed to the nines with the Garter Stitch Baby Cardigan. This easy knit cardigan pattern won't take you long at all. What's even better is that you don't have to be a professional knitter to cast on. Even the most novice of knitters can complete this adorable little knit.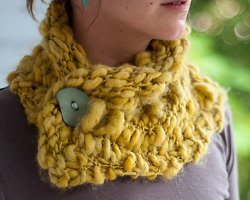 90-Minute Wasabi Cowl – You're just an hour and a half away from having quite the fashionable knitted accessory in your wardrobe. What are you waiting for? You'll love knitting your 90-Minute Wasabi Cowl so much you'll want to return to the pattern again and again. Make one for all of your friends!
Two Hour Fingerless Gloves – Of all of the fingerless gloves knitting patterns, this has definitely been your favorite. Who doesn't love quick knits that are also incredibly stylish? Cast on a pair of these today. They'll look good in any color!
Elegant Evening Shawl – Some nights you just want to wear your little black dress no matter what the weather. Now, you can stay warm in your favorite dress with the Elegant Evening Shawl. This wrap features a simple lace knitting pattern that is a great starting point for beginners just waiting to try their hand at knitting lace.
Country Cottage Shawl – We've got another printable on the list! This one is just as warm as it is elegant. Wear it to dress up an outfit or wrap yourself in warmth while you're relaxing at home. There's no wrong way to enjoy your Country Cottage Shawl.
Click here to see the Top 100 Patterns of 2014

Bonus Yarn Giveaway!
Presented in a small "pastry box," Lorna's Little Bites provide a guilt-free way to indulge that sweet tooth of yours. Each box of Lorna's Little Bites contains twelve different 20-yard mini-skeins for your knitting pleasure. We are giving away one box of Lorna's Little Bites to one lucky winner.  The deadline to enter is January 7, 2015 at 11:59:59 PM Eastern Time.
What knitting patterns do you want to see more of in 2015?
Latest posts by AllFreeKnitting
(see all)